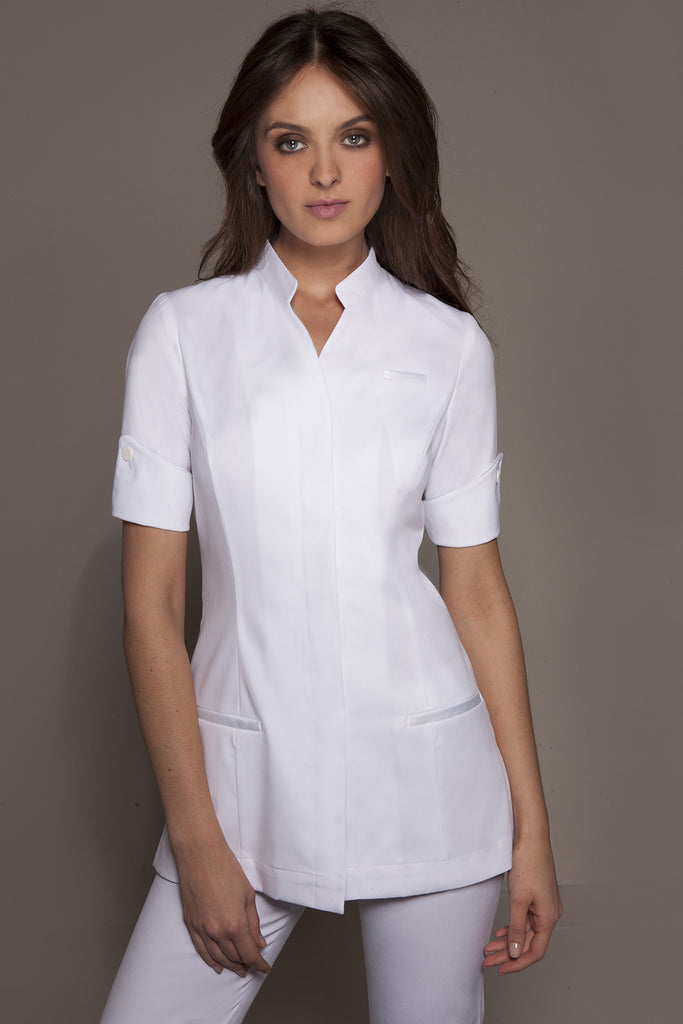 NIAGARA Tunic (White) - Spa - Beauty - Medical
$74.00
NIAGARA Tunic in White: for Spa, Dental & Medical Uniforms
THE NIAGARA SIZES REALLY SMALL. 2XL = an L.
THE NIAGARA SIZES REALLY SMALL. 3XL = an XL.
Make sure you check our size guide....for specific measurements or referred to the table below. STYLEMONARCHY Uniforms are designed in Paris, FRANCE and size quite smaller than US sizes.
For example:
A small M in the US = an L in STYLEMONARCHY
A Large M in the US = an XL in STYLEMONARCHY
A size L in the US = Size XXL in STYLEMONARCHY
Exquisite Versatility!
Differentiate yourself from your competition with StyleMonarchy's Niagara Tunic; an elegant, comfortable and durable spa and medical tunic for professionals in spas, beauty centers as well as dental & medical practices.
The Niagara Tunic gives you a "two-in-one" look! The mid-length cuffed sleeves, embellished by two lateral buttons for a "Couture" touch, can be worn up or down for two different looks and the side slit on the sleeves allows them to be worn un-cuffed without losing comfort!.

The three real pockets make this tunic extremely versatile and practical. The pockets are enhanced with discreet satin, making this top the ultimate embodiment of classiness and elegance.
Its overall unique cut makes it a chic and tasteful medical, dental, beauty and spa uniform.
The Niagara tunic can be paired with the Cordoba pants or Manhattan skirt for a classy spa uniform or medical attire.

Discover why our fabrics are so exclusive and different!
Washable: 60° C - 140° F

High-Quality Professional Fabric
High Comfort thanks to our stretchComfort fabric
Please refer to the caretag on the garment for more details.
STYLEMONARCHY sizes quite small. Please refer to the below sizes for reference. If you want to measure yourself, please measure your bust, waist and hips, add about1 inch (~2cm) to your measurements then look at the table measurements in the size guide page. Like this, the tunic/uniforms will fit nicely & you will be  comfortable.