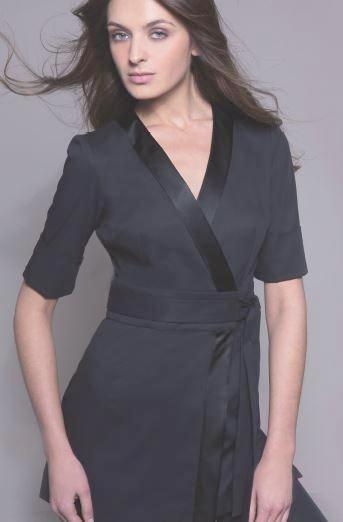 NAGOYA Tunic (Black) by STYLEMONARCHY. Spas - Beauty - Medical
$69.00
Nagoya Tunic in Black: Beauty, Medical & Spa Uniforms
Make sure you check our size guide....for specific measurements or referred to the table below. STYLEMONARCHY Uniforms are designed in Paris, FRANCE and size quite smaller than US sizes.
For example:
A small M in the US = an L in STYLEMONARCHY
A Large M in the US = an XL in STYLEMONARCHY
A size L in the US = Size XXL in STYLEMONARCHY
There are 2 sizes in the NAGOYA. There are 4 buttons in the inside that you can adjust for a more or less tight tunic at the waistline. The first vertical row of buttons is one size and the other vertical row is 0.5 size bigger. 

Delightful Sophistication! Just in Black!

This refined and stylish black wrap tunic perfectly symbolizes the essence of Japanese elegance and sophistication.
With its exquisite "v-neck décolleté" ornamented with discreet satin, its "kimono" sleeves slightly opened at the elbow to enhance comfort, and its classy knot, the Nagoya top embellishes any figure with a touch of sophistication.
Perfect for spas, wellness centers, hotels, receptionists, front desks and more....it can be paired with the Cordoba pants or the Manhattan skirt for a uniform that will amaze your customers at first glance!

Pair it with highly comfortable flats or professional shoes for a stellar look!
Discover why our fabrics are so exclusive and different!
Washable: 60° C - 140° F

High-Quality Professional Fabric
High Comfort thanks to our stretchComfort fabric
Please refer to the caretag on the garment for more details.