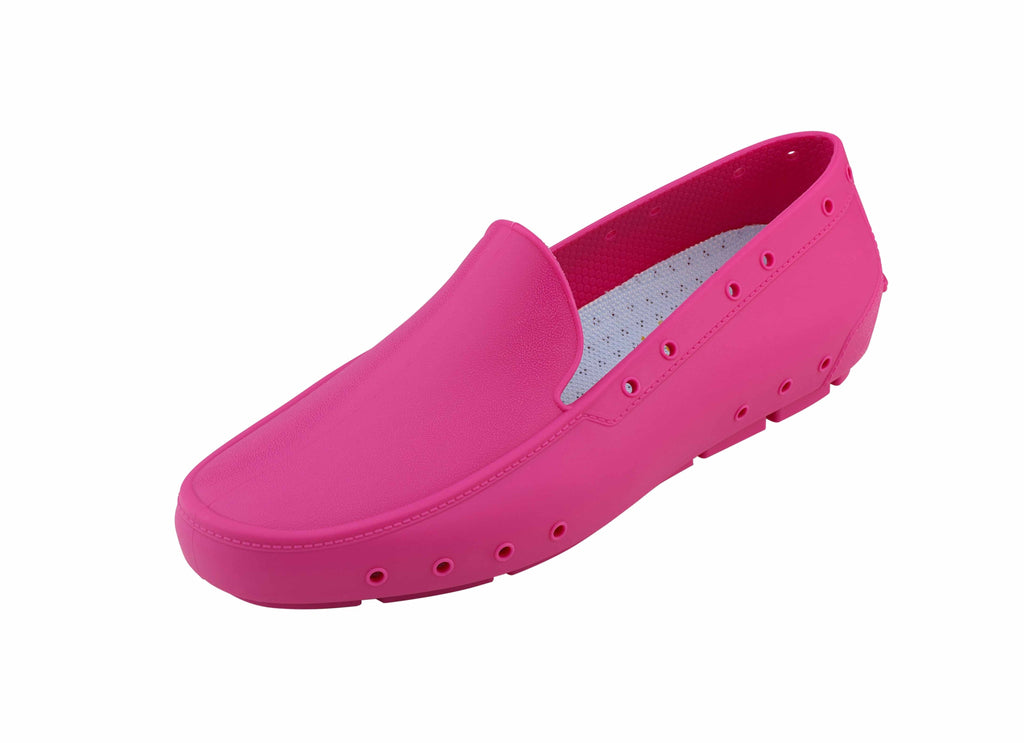 WOCK PROFESSIONAL SHOES-LEA Moccasins Pink for Spa, Wellness, Dental, Nurse. Medical - STYLEMONARCHY
$39.95
LIMITED EDITION!
Professional Shoes: Moccasins Lea in Pink

The Moccasins Lea are a Unisex footwear suitable for both work activities in spas, wellness centers, beauty salons, cosmetic centers, dental and medical environments as well as hotel kitchens and cleaning personnel. A combination of professional features combined with elegance, sophistication and comfort, made the Lea moccasins in Pink a one of kind professional shoes!.

Specifically designed for professionals who work around water or high hygiene and safety environments, the Lea moccasins are extremely comfortable without compromising style and elegance.
Several looks in one!! By simply changing the shoelaces, you can give the LEA Moccasins a different look every day!
Featuring a closed heel and a removable insole for easy clean as well as anti-static and anti-slip technologies, the Lea Moccasins are made of high-quality polymer (moccasin not the insole), that allows several sterilizations in an autoclave up to 134°C (273°F) without compromising the integrity of the shoe (durability might be impaired depending on sterilization parameters and number of cycles). The Lea moccasins are therefore perfectly suitable for highly demanding hygienic environments.
The Lea moccasins feature the following characteristics:
Washable - the Lea moccasin (not the insole) can be washed in the washing machine up to 80°C (176°F)
Closed heel - for better support
Flexibility - Flexible shoe and flexible insole


Removable insole - allows easy clean of the shoe and insole separately


Ventilation holes - on both the moccasin and the insole


Breathable - the temperature and humidity of the foot can easily be evacuated.


Shock Absorption - The design of the shoe and insole help reduce the occurrence of micro–lesions in tendons, bones and joints.
Anti-static Technology - allows for the dissipation of accumulated static electricity.


Coolmax Technology -  The Coolmax insole allows air circulation inside the shoe, drying humidity faster and keeping the feet drier.


Anti-slip Technology - The outside sole is designed to reduce the risk of slipping.


Lemon Scent - The moccasin has a fresh and soft fragrance, with a lemon scent.
Upper Liquid protection - The shape of the Lea avoids the entrance of liquids.


European Shoes - 100% European shoe
TECHNICAL STANDARDS

CE Directive 89/686/EEC.

EN ISO 20347:2012

SATRA TM 144:2011 Slip Resistance.

SATRA TM 158:1992 Washability — 80°C (176°F).

TECHNICAL SPECIFICATIONS

Fuel oil Resistant


Resistant to solvents detergents

Resistant to lactic acid

Resistant to liquids (such as infiltration of blood)

Resistant to Chemicals

Resistant to saltwater

Resistant to abrasion

Recyclable



Care and Cleaning Wash:
Machine washable up to a maximum temperature of 80°C (176°F). Can also be steam sterilized in autoclave up to 134 °C.
Dry: Wipe with a cloth or dry at room temperature.
Attention:
The Lea moccasin resists to several sterilizations in autoclave, but durability might be impaired depending on sterilization parameters and number of cycles.
The Lea moccasin also resists to several washings at 80°C (176°F) in washing machine. It is not recommended the use of bleaching agents during washing machine cycles at 80°C (176°F). The resistance of the Lea moccasin material to washing depends on several factors: • Type of detergent; • Concentration; • Cycles' duration; • Temperature; • Physical stress during the cycles.
STYLEMONARCHY® Shoe Collection perfectly combines with our high-quality Uniforms. For our Uniforms Garment Care, see below.
Washable: 60° C - 140° F

High-Quality Professional Fabric
High Comfort thanks to our stretchComfort fabric
Please refer to the caretag on the garment for more details.