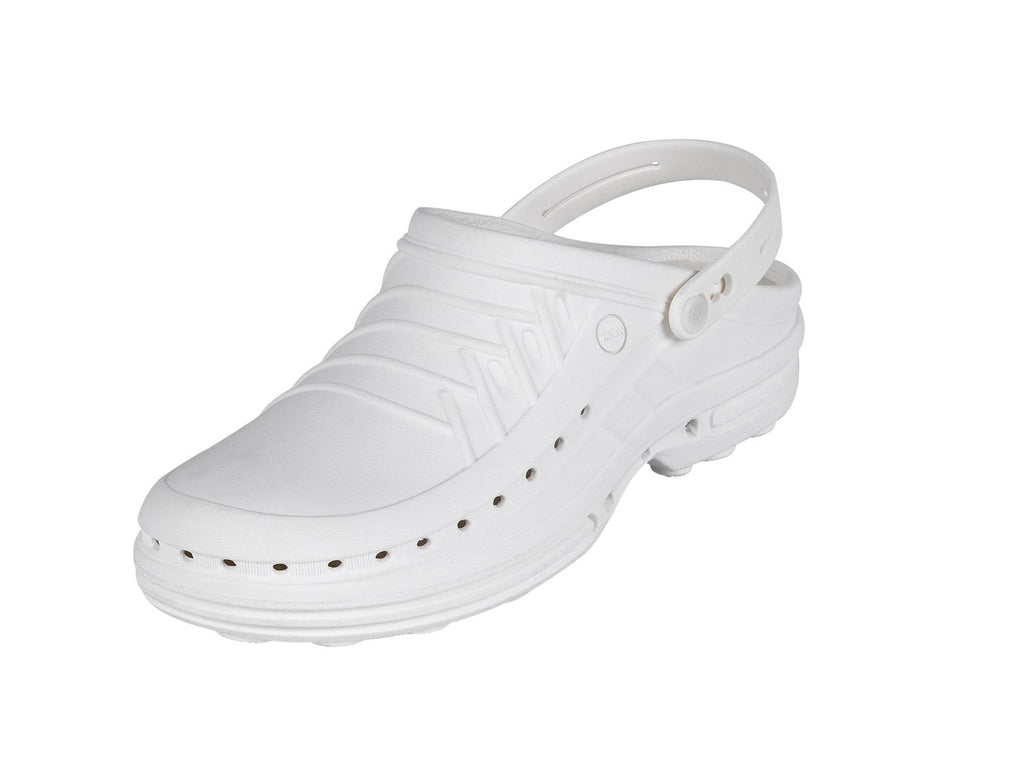 WOCK PROFESSIONAL SHOES-STELLA White for Spa, Wellness, Dental, Nurse. Medical - STYLEMONARCHY
$39.95
LIMITED EDITION!
The Stella clog white is a Unisex occupational clog entirely made of polymeric materials footwear suitable for people who spend a great amount of time standing up or walking such as estheticians and nurses in spas and medical spas, wellness centers, beauty salons, cosmetic centers, pharmacies, dental and medical professionals, laboratories environments as well as hotel kitchens and cleaning personnel. They combine technical and therapeutic features such as: impact absorption, leg muscular relaxation, temperature and moisture control, anatomic insole and reduction of static energy. 

The material used for the Stella Clog is a high-quality polymer material that provides odor control, inhibits bacterial and fungal growth and is non-toxic. 
SPECIAL FEATURES INCLUDE: 
Breathable: Little holes in the side and the lower part of the shoes allow air to circulate around the foot while walking, which helps to keep the feet cool and dry the whole day.


Anti Slip: the sole has special designs meant to help reduce the risk of slipping.


Washable at 80° C 176° F both the shoes and the insole. They can be washed in regular washing machines.


Sterilization: The shoes can also be sterilized in an autoclave at up to at 124°C (255°F) ensuring guaranteed of hygiene standards. 


Antistatic: helps dissipate the electrical energy produced and built-in during use, overcoming the risk of potential static discharges.


Shock Absorption: the insole is specially designed with an impact reduction system, which reduces micro-injuries of tendons, bones and joints. Its anatomical design also stimulates blood flow and provides greater comfort.


Relaxation: The insole is designed with little balls that massage the foot plant the whole day, to help blood circulation and feet relaxation.
Removable Insole: the insole can be removed from the shoes for more frequent convenient  cleaning when needed. It is flexible, breathable and machine washable at 80° C 176° F like the shoes.


Upper Protection: the upper portion of the shoes protects the foot against liquid spillage.
Removable heel-strap: Stella can be wore both with the heel strap or without for 2 different looks.
100% European shoe: The stella clog is made in Europe.
Lemont Scent - The shoes are infused with a soft fragance.
Unisex - Style fits males and females
 Technical Standards:
CE Directive 89/686/EEC.

EN ISO 20347:2012

SATRA TM 144:2011 Slip Resistance.

SATRA TM 158:1992 Washability — 80°C (176°F).

Norma IEC 61340–4.3 — Class 1* — Electrostatics — Part 4–3: Standard test methods for specific applications — Footwear

Norma IEC 61340–5.1* — Electrostatics — Part 5–1: Protection of electronic devices from electrostatic phenomena — General requirements.
Care and Cleaning Wash:
Machine washable up to a maximum temperature of 80°C (176°F). Can also be steam sterilized in autoclave up to 134 °C.
Dry: Wipe with a cloth or dry at room temperature.
Attention:
The Stella clog resists to several sterilizations in autoclave, but durability might be impaired depending on sterilization parameters and number of cycles.
The Stella clog also resists to several washings at 80°C (176°F) in washing machine. It is not recommended the use of bleaching agents during washing machine cycles at 80°C (176°F). The resistance of the Stella clog material to washing depends on several factors: • Type of detergent; • Concentration; • Cycles' duration; • Temperature; • Physical stress during the cycles.
STYLEMONARCHY® Shoe Collection perfectly combines with our high-quality Uniforms. For our Uniforms Garment Care, see below.
Washable: 60° C - 140° F

High-Quality Professional Fabric
High Comfort thanks to our stretchComfort fabric
Please refer to the caretag on the garment for more details.