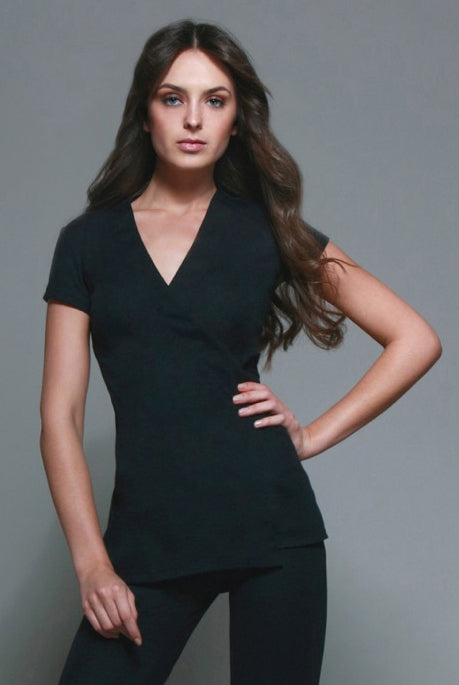 SAO PAULO Tunic (Black) - Spa - Beauty
$55.00
SAO PAULO
Tunic in Black: for Spas, Beauty & Wellness Centers
Make sure you check our size guide....for specific measurements or referred to the table below. STYLEMONARCHY Uniforms are designed in Paris, FRANCE and size quite smaller than US sizes.
For example:
A small M in the US = an L in STYLEMONARCHY
A Large M in the US = an XL in STYLEMONARCHY
A size L in the US = Size XXL in STYLEMONARCHY
Infinite Comfort!
Comfort, Comfort, Comfort! A revolutionary wrap spa tunic thanks to its innovative, ultra-light knit fabric that keeps the body cool, its ultra-stretchy, second-skin feel that enhances comfort and its anti-sweat properties. The Sao Paulo is perfect for both colder and warmer environments! The Sao Paulo Tunic is the perfect combination of elegance and ultra-comfort and is made out of an eco-friendly fabric!.

It can be tied in the back or on the side for 2 different looks! When combined with the Cancun spa pants, which are made with the same comfortable knit fabric, the Sao Paulo spa tunic creates a slick, elegant spa uniform.

Eco-friendly fabric! Made of TENCEL, a super soft fabric that wicks away moisture and eliminates odors!
Washable: 40° C - 104° F

High-Quality Professional Fabric
High Comfort thanks to its Ultra-light, ultra-stretchy fabric
Please refer to the caretag on the garment for more details.
STYLEMONARCHY sizes quite small. Please refer to the below sizes for reference. If you want to measure yourself, please measure your bust, waist and hips, add about1 inch (~2cm) to your measurements then look at the table measurements in the size guide page. Like this, the tunic/uniforms will fit nicely & you will be  comfortable.